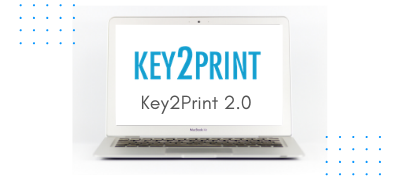 Have you heard that a lot of companies implement web-to-print solutions but for majority of them it doesn't end successfully? Check out why you should trust a company with over 8 year experience in building software for the biggest printing houses in the world.
Key2Print 2.0 is a pivotal project of our company next to dropshipping plugin for commercial printing, white label solution and photo app.
1. A unique Web-to-Print for affordable pricing
As an owner of a print company, who wants to move your shop online, you probably already know how hard it is to find an all in one solution - a unique and suitable, yet affordable Web-to-Print software. Created with small and medium printing companies in mind, Key2Print system aims to match various requirements - from scaling print shops online presence on different devices, through processing a large number of products and their variations, to servicing both corporate and individual customers.
If you want your online shop to stand out on the market, Key2Print system is just for you. It is build on an expandable core that can be either your off-the-shelf software or an individualised system including features of your choice. With its' help your store will not only look like no other but also be exceptionally abundant with various functionalities. All of that for reasonable prices.
2. Selling online on many ways all around the world
Key2Print 2.0 gives you the possibility to sell any printed product on any device you want to any country you want. Since every layout we prepare is perfectly readable on a smartphone, you can offer your products on both mobile and desktop without worrying about problems connected to interface clarity.
If you wish to customize a graphic layout, you can do it by yourself or a group of Key2Print graphic designers can do it for you. We then code it and implement it to your store.
Furthermore, our Web-to-Print provides your customers and employees with a simple and user-friendly navigation menu where you can create unlimited number of pages. And above all, sell all commercial printing items from offset and digital printing, through large-format, to books and gadgets, according to your preferences.
3. Automatisation of customer management and production management
What is hugely important in case of rapidly developing print companies is streamlining the workflow of customer management and production management. This is why in Key2Print 2.0 both of those processes are automated.
Customer Management Module
Easily manage your orders using administration panel.
When order enters to your system Key2Print 2.0 automatically checks product specifications (DPI, colors, size, number of pages and fonts).
System automatically updates your client on changes in order status and sends all of the necessary documents such as invoices or proforma invoices.
In case of any new items in your store - you can send the offers for standard and custom products with only few clicks.
Production Management Module
This solution organises the work in the print house - it breaks down orders for products on different stages.
When your business is growing rapidly - you can railroad the production according to your own priorities. This tool enables you to build scenarios connected to products and pre-plan their path.
If you want to collect the multitude of orders - store them in one place, where they get converted from your sales department and from the shop.
If you prefer to gain full control over your production processes - create workstations to describe all of its stages and manage your employees access to certain modules.
Workstations are also a place to which employees report their work and have the possibility to return to previous stations or internal complaints.
4. Unlimited number of products and their configurations
Unlike many Web-to-Print systems Key2Print 2.0 has no restrictions on the number of products or product configurations. It is able to display and calculate millions of product variations in a matter of 0.3 second. Plus, it enables you to add many new, unique formats, unusual papers and other characteristics describing the product.
Thanks to our integrating of Web-to-Print with excel spreadsheets you can easily prepare excel based price calculation of your printing products.To turn this process quick, just create your own formulas - they will help you to effortlessly manage your costs of material and job.
5. Flexibility in creating prices
Building your store with Key2Print 2.0 means working on your own terms. With the use of excel-based formulas you have a full flexibility in creating final product prices, listing predefined parameters (for example sizes) or customer options to be entered with a finger/input and configure delivery prices for standard and large formats.
The level of complexity of price lists is also 100% dependent on you! It is you who decides on introducing very simple formulas or advanced ones counting employee costs, machine depreciation, etc. To generate excel-based price lists you just have to prepare product parameters, generate and download an excel template from our system, supplement it with the appropriate formulas and in the end load it into the system.
The functionality of quick excel-based price calculation is ideal for large format, brochures, books and complex applications - it saves time drastically!
6. Product management - wide range of possibilities
In Key2Print we are aware that having an enticing and well categorized product portfolio with attractive prices can be half of your company's success. Yet, what we are also mindful about is the fact that product management can be very time consuming. This is why we've decided to provide for you functionalities that will make your product management much broader, quicker and more comfortable.
Using Key2Print 2.0 you may:
enter your products into the system with various methods
- by the Product Wizard
- by importing a csv file
- based on dynamic price calculations included in the excel file
set your items in different product groups
apply discount codes or promotions
- for the first "basket" of a new user
- for a specific volume
- for a specific quantity of products in the "basket"
- for the value of the "basket"
- for your regular clients
create a photo gallery of products
get the support for many languages and many currencies
have an access to help files (Artwork Templates, print specification and requirements etc.) for specific products
offer your clients additional services such as graphic design, special packaging and more
7. Individual products for your VIP clients
Are you working with a corporate client, with a large number of branches or with franchise networks? Key2Print 2.0 gives you the chance to stand out as a provider of exclusive products and pricing for your key customers.
Using the Sales Module your sales department can conveniently send offers to all of your customers. The tool enables traders to operate on existing product database or producing totally new, customized offers for your VIP clients.
Exceed the expectations of your most demanding clients - prepare an individual set of items and become the highest standard printing enterprise.
8. Security above all
To ensure maximum availability and security of our services Key2Print is working with OVH, the largest hosting provider in Europe. The protection of our customers' data is vital. OVH is meeting the requirements for multiple standards and certifications (PCI-DSS certification, ISO/IEC 27001 certification, SOC 1 TYPE II and SOC 2 TYPE II certificates, etc.). Our cloud-based solution is monitored (services and infrastructure) 24 hours a day with automatic messages sent to our team so that we can stay on top of things.
Additionally, all of our customers receive an SSL certificate to ensure safe browsing. The SSL certificate protects the transmission of confidential information, it confirms the credibility of the website and makes it clear that security and confidentiality rules are very important for your company.
Want to run a prestigious business? Guarantee your potential customers that you are a serious contractor to be trusted.
9. Multitude of payment and delivery options
Key2Print enables you to choose for yourself a multitude of suitable payment methods (transfer, cash on delivery, payment gateways for online payments).
Using Key2Print 2.0 you can integrate your store with multiple payment gateways of your choice, set different shipping methods and integrate with many courier services - just contact us about available options and we'll make sure to adjust them for you. If we do not have a payment gateway that interests you, we can generate it for you.
You might be wondering however, whether integration with so many instances may get confusing and problematic after a while. But do not have any worries.
Thanks to our API the transmission of order details to external systems (MIS, ERP) and reporting customers on changes in order status happens automatically.
10. Software as a service
Developing a well-functioning software for a print company is only one part of a huge quest. The other engaging task is keeping it efficient and continuously improved.
In Key2Print we constantly work on making our systems better. We listen to all of your ideas and if needed, we provide our own solutions to your problems. You can also count here on full IT support. Our team will monitor the full efficiency of your system and will be happy to answer all your questions.
Your benefit is withal easiness in maintaining the service. You won't have to worry about renting or buying servers, as we will provide you our hosting for a subscription that will not affect your cash flow.